Sorry, I haven't been writing (sorry to myself, that is. no one is coming here and i don't blame em). I haven't because the template I had was complete and udder crap. No offense. So I gots me a new one and I shall start reviewing and rambling as my description says I do. Don't wanna disappoint.



So, books to review:
Wicked Lovely by Melissa Marr
Ink Exchange by Melissa Marr
Nobody's Princess by Esther Friesner
King Dork by Frank Portman
The Adoration Of Jenna Fox by Mary E. Pearson
Walk Of The Spirits by Richie Tankersley Cusick
And so much more.... all thanks to the convenience of my friendly, neighborhood library.
That's a lot of writing. *sigh* Okay, time to get down to business.
~*~Wicked Lovely~*~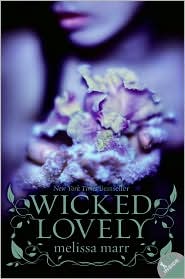 (summary borrowed from B&N)
Rule #3: Don't stare at invisible faeries.
Aislinn has always seen faeries. Powerful and dangerous, they walk hidden in mortal world. Aislinn fears their cruelty—especially if they learn of her Sight—and wishes she were as blind to their presence as other teens.
Rule #2: Don't speak to invisible faeries.
Now faeries are stalking her. One of them, Keenan, who is equal parts terrifying and alluring, is trying to talk to her, asking questions Aislinn is afraid to answer.
Rule #1: Don't ever attract their attention.
But it's too late. Keenan is the Summer King who has sought his queen for nine centuries. Without her, summer itself will perish. He is determined that Aislinn will become the Summer Queen at any cost—regardless of her plans or desires.
Suddenly none of the rules that have kept Aislinn safe are working anymore, and everything is on the line: her freedom; her best friend, Seth; her life; everything.
I've got to say, this book is much different than one I've ever read before. Faeries. I've never read about faeries. Not directly, anyway. And these faeries? They aren't the small, kind, winged creatures we all know and love. Some are scary, and some do horrible things. The faerie world is seperated into four courts--The Summer Court, The Winter Court, The Dark Court, and The High Court. Keenan is the son of the late Summer King. His mother, Beira, who is also the Winter Queen, killed his father and had the Dark King seal away Keenan's powers until he finds his Summer Queen. I see this book as a sort of Sleeping Beauty, or some other fairy-tale. Sleeping Beauty is the first that came to mind... He finds his Summer Queen, she takes the Winter Queen's staff, and with that she passes the test and they can live happily ever after... But there is one problem with Keenan's fairy tale ending. He finds the girl he thinks is his Summer Queen. Her name is Aislinn, she's in love with someone else and she won't give up without a fight. I loved this book, and I truly recommend it to fantasy lovers, or just anyone who loves a good story that'll keep you up at night, thinking.
I give this book a rating of....*drum roll*....three-point-five outta five piles of bacon!
Hearts and Circles,
Tay-Toe